Testimonials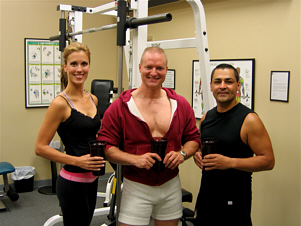 "Rick is the first personal trainer I've ever worked with. Having one-on-one training is amazing and exactly what I needed. I am a stronger person physically and emotionally. I have learned proper lifting and equipment-usage techniques. Rick knows if I have an extra set in me even when I think I couldn't possibly do another rep. If I could afford to work with Rick five days a week, I would do it in a heartbeat."
Hayley M. Vogel
"One of the many reasons for Rick Gusler's success is his approach to your one-on-one relationship emphasizing you and your personal trainer. I have trained with Rick for over 1 year and see results in my body tone and cardio stamina without any signs of over training. Rick focuses time on you, without any distractions from other clients and his gym is yours for that time. I believe the reasons for Rick's business success for over 10 years is because he is truly a professional in the way he runs and manages his business. When you are good at what you do, it shows. Rick consistently lives his life in a positive way and shares that with his clients. Rick provides to me the training and mental motivation to stay consistent with working out for the long term and the benefits we all want from a healthy lifestyle."
Tom Andrews
"Rick Gusler has been my personal trainer for nearly 2 years. Within that time, I have experienced significant changes in the way my body looks and feels. I get compliments about my arms, chest and legs all the time. It's a rewarding feeling to know that my hard work and Rick's support is responsible for the transformation.
I seriously doubt you'd find a personal trainer more knowledgeable or dedicated as Rick Gusler. He can customize a workout plan for you just as he did for me and the one-on-one interaction ensures that proper form and appropriate weights are used all the time. Whether you want to look hot or simply be healthy, Gusler Body Sculpting Fitness Center is an experience you can't afford to miss."
Ryan Fune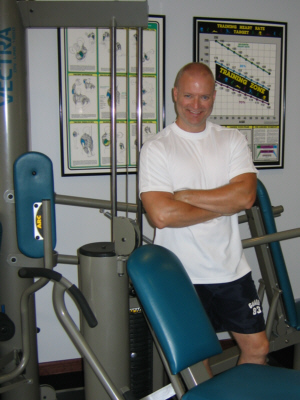 "Gusler Body Sculpting & Fitness Center is dedicated to individualized attention, a professional environment and maintaining modern equipment. There is no pressure to try supplements or fad diets; however, clients will see consistent, sustainable results from proven workout techniques and nutrition recommendations. I highly recommend Gusler Body Sculpting & Fitness Center to those who are just getting started, or are already in shape and want an experienced perspective from a reputable professional."
Russell Johnson
"Since I have been working out with Rick Gusler I weigh the most I ever have. I am one of those rare individuals who has the opposite problem of gaining weight. Through consistent weight training and diet I have been able to maintain this goal. I feel healthier and have more self-esteem than ever before. Rick is very knowledgable helping people reach their goals."
Mel Garcia
"I never stayed motivated when I had a regular gym membership, and just showed up when I had time. The commitment part of working out was the hardest part for me. Enter Rick Gusler of Gusler Body Sculpting Fitness Center! Rick puts together a dynamic and motivating workout routine designed just for me. He guides you through the maze of health and fitness information out there to stay focused on your needs and goals. The transformation to the "new you" starts by calling Rick Gusler."
Lane Waneka
"I am honored that Rick asked me to write a few words about my experience working out with him. I have been working with Rick since May 2001 and have seen significant results and continue to see them. He has helped set up a structured program of nutrition and exercise, and has helped me maintain more control of my weight. Although workouts can be strenuous, I always feel great afterwards. I look forward to working with Rick more in the future, and enjoy the lifestyle he has helped me create."
Alan Woods
"Rick Gusler is a great personal trainer and Gusler Body Sculpting studio is a great place to work out. Rick has a fine eye for understanding his clients exercise needs, a thorough knowledge of the musculature and bone structure of the body, and an uncanny ability to fit the appropriate exercises to those needs. His studio reflects his personality: it is a warm, colorful, modern, professional place to be. Rick's good humor is an asset to my workouts. After an hour of one-on-one exercise with him, I always feel better, mentally and physically. And after a year and a half with Rick's studio, the problem in my right shoulder has been corrected, and I'm in my best shape ever!"
Gene Saxe
Gusler Body Sculpting Fitness Center, LLC
459 Acoma Street · Denver, Colorado 80204 · 303-860-7131
Hours: Monday-Friday: 6am-8pm · Saturday: Closed · Sunday: Closed